"For those mourning their past glory days, know this: There is always a second chance. Just ask this 1993 Ford Mustang SSP unit still owned by the Nebraska State Patrol, which turned back the hands of time to assist in a traffic stop along one of the state's famously-flat highways on Monday.

The Nebraska State Patrol's Facebook page posted a wonderfully anachronistic photo showing the 1993 Ford Mustang SSP in full police regalia backing up a modern Dodge Charger Pursuit as the pair took down a ne'er-do-well in a mid-2010's Hyundai Sonata. "'93 Mustang 5.0 is on patrol today. Yes, it runs... Yes, a trooper drives it... Yes, it's in service." It's also reportedly a manual."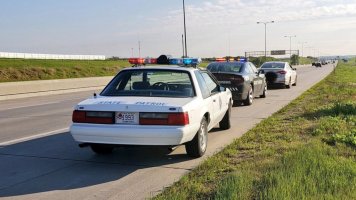 More here.....
A rad blast from the recent past.
www.thedrive.com