Posting on the new board from the old one.
Here are a few pics of my "new to me" ride. Used to have a 92 Ford Explorer XLT, and upgraded to this. V8 AWD, not bad for a 98 model and the price I paid for it.
Here is a pic of the console. It is a Havis 14" consolidator. Installed is a Brookings 6 switch panel, Icom IC2100 for 2 meter ham, and Motorola Spectra A9 and DEK for
VHF
fire and Sys9000 siren control: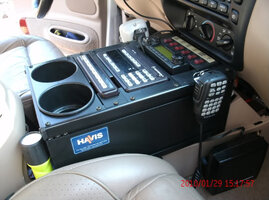 Next is the Whelen 4 head Dominator, R/R/R/R facing the front for upper level warning. A push button was added to change patterns: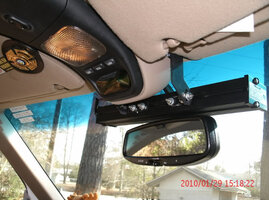 In the front grille are 4 Whelen 500 Series Split Tir6 Lightheads. The entire lighthead is configured to light the entire head. Please excuse the peeling paint on the brackets, as I didn't have time to repaint them after removing them from my other truck. The brackets were made from an aluminum road sign.
These lights are set to flash in an "x pattern" and are synched to the Dominator and the two LIN4s.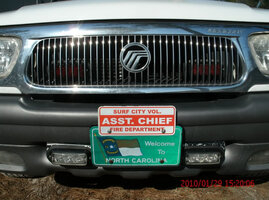 On each side of the front corners, is a Whelen Lin4, solid red and of course
HAW
strobes. The HAWs are in the reverse lights as well, running on a Whelen CPS690:
In the rear and side glass are paired Whelen Tir3s, Red & Amber. You cant see them through the tint until I turn them on. These are all connected to a ULF44 flasher installed in the small cargo pocket where the OEM jack and
HAW
strobe supply is mounted: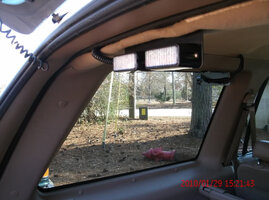 The siren speaker is a traditional standard style Code3/PSE 100w siren speaker. The speaker is easily mounted here on most Explorers & Mountaineers, lots of room to work with, but the plastic shroud on the speaker may need to be trimmed slightly with a dremel tool.
A shot of the antennas for the 2
VHF
radios. An 800 quarter wave will be added soon. The previous owner had a cheaper style cell phone antenna installed, and I removed the rusted mount when I got the vehicle. The mount was in the edge of a cross brace for the roof, so I plugged the hole, and will be painting the plug white sometime this summer.