Here is my 96 Ranger. For lighting I have the following.
Edge 9000 Ultra B-Link 12 Strobe
Axixtech MiniXtreme 4's Split Blue/Amber in grill
Axixtech L26R32B Gen 1 modules in side windows just for secondary side lighting.
Fedsig
HAW
's in each corner
Fedsig Cuda 33 inch
TA
in back window
Bar after we polished the lenses, and added amber to the front.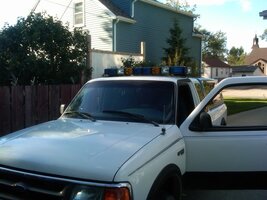 This was right when the bar showed up at my house before cleaning and redoing the front.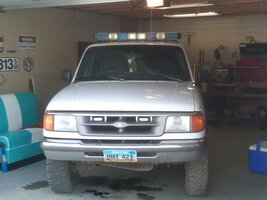 I will post more pics of the truck tomorrow. Any other suggestions would be great. I am debating on moving the ambers to the very center up front or leaving it how it sits now.