This truck has gone thru a variety of equipment. I have everything setup with amp/mate plugs for easy exchange when I feel the need to 'switch it up.' It's used for vollie SAR/traffic control. Everything is LED.
Front:
Whelen
LAW
kit - c/c
6 Whelen LINz6 - 2
blue
, 2
amber
in the grille, 2
blue
on the sides of the front
LP
Whelen LIN6 Mirrorbeams -
blue
/
blue
, 'dumb' heads flashed off a D2 flasher, sync'd to front lights
RVM
- changes/varies. Pics show 2 dual talons, each
blue
/
amber
, but took one down. Have a
blue
/
blue
one there currently.
Side (sync'd with rear):
Had a D2 Dominator on each side with TIR3 4 wire modules in there so I could control them separately,
blue
/
amber
. But, as of this last week, it has a TIR6 out each side,
blue
.
Rear (sync'd with side):
Whelen D4 Dominator - specially wired for a 6 lamp arrow with end TIR3s,
blue
.
Whelen LINZ6 - rear
LP
mounted vertically,
blue
/
blue
.
Whelen Vertex -
red
/
red
in the parking light area of the tail light
For the top, I have the quick connect setup, so I've had full size bars on it, but currently running either 2 Whelen
LP
Responders in
blue
/
amber
or a mini freedom,
blue
corners with 5mm
amber
centers. Bars are mag mount and harnesses are adapted to the quick connect, so I don't have wires coming in the door.
I've also got a Whelen D8-48in Dominator for above the back doors. Just installed another quick disconnect box on the rear to plug into, I previously had to drape cord to the front quick disconnect box, which was a pain. Magnetic mounts. Same setup as inside, 6 lamp arrow with end
blue
TIR3s. Reasoning, driving around in the winter time, the back window covers quickly with snow, leaving me with just the vertexes and LINZ6s. I'll also use it when running traffic on some of the areas main arteries, where just that little extra punch is needed.
All controlled by a SS2000SM, which is mounted in the rear storage area. I have a quasi-lightbar cable running from the front/hood to the rear/amp, with a splice area by the driver's floorboard. Makes it easy to switch things up.
pos 1 -
amber
LINZ6, aux1
pos 2 - aux2, aux3, aux4,
pos 5 - aux5
aux1 - corner leds
aux2 - front
blue
grille/mirrorbeams
aux3 - rear, side
blue
aux4 -
RVM
light
aux5 - primary/lightbar
Also installed is a Kenwood TK-8180 mobile, Motorola AstroSpectra P25 mobile, and Yasue 2m. I have 4 NMOs on the roof, 3
VHF
and 1
UHF
, all 1/4 wave. 4th antenna ends by the Panavise bracket on the dash, where I can hook up a scanner or a portable radio (like my work XTS5000 before I installed the Spectra). I left it there 'just in case.'
6 switchbox by the storage area controls 3 outlets on front (4th is constant power). Switch 4 turns ignition items on from the battery, for when the vehicle is off. Switch 5, same as 4, but for ignition. Switch 6 cuts power to the SS, but keeps the radios on (aka, no accidental woo-woo).
Console is self made with Havis faceplates. It was a PITA and took the better part of 6 months to get done. It turned out pretty good, there's one area in the upper left corner where I don't like the seam, but it's minor.
Like I said, my truck is constantly varying. It's like a tinker toy...
:mrgreen:
Console pics, pre carpet: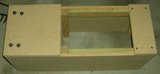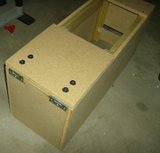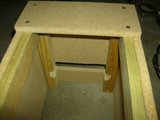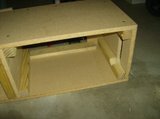 Console pics, post carpet/installed: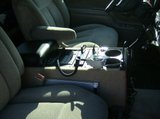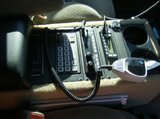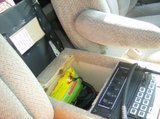 Truck: