Senior Member
Silver Supporter
So at this point the cat is out of the bag on what my next project nearing completion is, however it's probably no surprise to some on here. I've wanted a short Aerodynic since I started working with them and after some pretty spectacular failures in trying to land one I was sent a project bar by a buddy of mine in TN. And when I mean project bar, I mean this one was ridden hard and put away wet.. and that is putting it nicely.
To put it in perspective, I was pretty much sent a frame, and the aluminum mounting plate with 4 pretty beat up rotators and nothing else.
I started with a machine shop having to drill and tap just about every screw hole on the frame. I tried to do it myself but there were just too many and so I sent it off to a local machine shop. Once that was done, I brought the bar over to my then employer and had them bead blast and then powder coat the frame black. The upside to this is it looks great, the downside to this is the frame was an older style frame, so the underside was finished black and the rest was unpainted. Now the whole frame is black.. oh well. Next up was completely cleaning and de greasing the mounting plate, and removing everything from the plate on the topside for refurbishment. I really, really tried to save as much from the original bar as I could.. but since there wasn't much there to start with much needed to be added. I also took the time to repair the electrical wiring under the mounting plate as it was already burned in several places. Much to my surprise though the inner gears and timing belt were still usable.
Moving forward I installed the speaker bulkhead, and par 36 endlamps, redid the motor mounting studs, and installed a correct for an EH series wiring terminal block. Remounted the aluminum base plate back to the refinished frame and added some tube style feet. I've tested the wiring and replaced all the bulbs, not all the screws are Federal Signal and there were some liberties taken with this bar to resolve some problems.. (new style speaker grille, and non metal par 36 holders) so purists be forewarned.
I've mounted the motor and tested, and I think I am going to stick with the 10,0x0,10 timing or wigwag on this bar as a flash pattern. And somehow or another I found a proper Aerodynic power cable with the correct number of wires.. no idea how this happened so thanks to whoever slipped it to me at some point. As for the endlamps I only have 2 4414 bulbs on hand currently... but I also have 2 7614 bulbs on hand... so the front will get the 50 watt 7614s and the rear will get the 4414s unless I can find more of them locally.
So I'm not done.. I still need to solve the flasher issue as it barely clears the inner rotator on the driver side, and I still need to go through and grease everything properly once I button it up. But it's 95% complete... domes are ready for it and my project that has taken me over 2 years to complete is nearing the end of the road...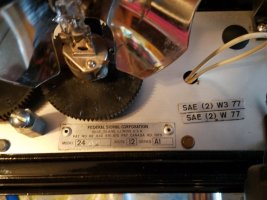 Test fitting.. making sure everything lines up nicely...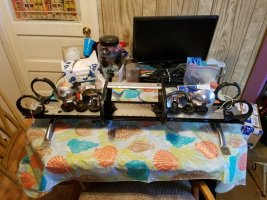 Mounted and installing items...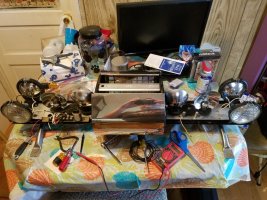 As it sits right now!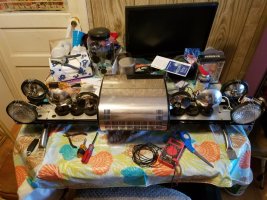 I finally used the bulb retaining clips from some old Federal beacons on this light.. I have many par 36 holders but no bulb retaining clips.. I'll take your junked sealed beam assemblies just to steal the bulb retaining clips.. PM me!