Hey y'all!!! Been a while, but I'm back and I have a bunch of stuff that needs new homes...
Here we go!!!
Items I'm interested in for trades are listed at the bottom...
51" Federal Signal Valor, All Blue/White front/sides, All Blue/Amber rear. Will come with full length power/ground/CAT5 and CID Box with wiring harness, mount feet and straps (random straps I found in my collection that worked perfectly for my Durango)
$850 obo (pick-up or I can meet within a reasonable distance)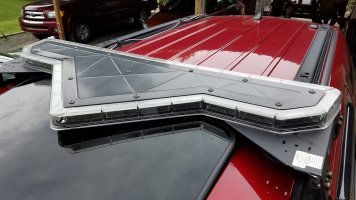 ____
Federal Signal SmartSiren 2000 Platinum. Will come with all cables and harnesses, currently installed/in use. Will include Gamber Johnson console faceplate if wanted.
$350 Shipped - obo
____
- Feniex Titan T-1000 (Original T-4 version) - All 40 Degree "spot" optics. I got it factory refurbed about 3-4 years ago and its sat on a shelf ever since. Factory full length power cable, no mounts.
$170 Shipped OBO
____
911EP TD28 - Red/Amber/Blue, about a foot of cable. Works great. (I know its a wierd color combo, got it with a combo deal a while ago) Has left right and center out arrow patterns plus 3 warning patterns.
$100 Shipped - OBO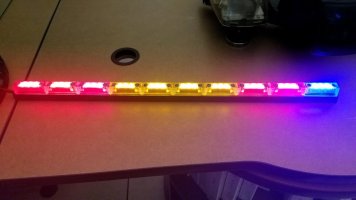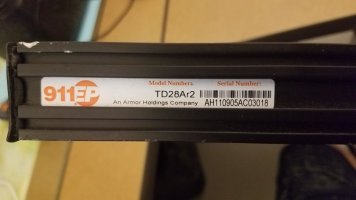 ____
- Federal Signal CN SignalMaser 4-Head Stick Internals - Blue/White (Blue or Blue/White warning, White Flood) Comes with a power/ground pigtail, just need a CAT-5 Cable and a CID box an you're set for a custom dash/deck light.
$120 Shipped OBO -
SPF
____
- 2 Federal Signal Viper EXT Lightheads - Blue, comes with mount bezel
$45 Shipped for a pair - OBO or trade for comparable red LED heads (Whelen, Federal Signal, Feniex, etc)
____
Code3 RX2700 Parts
2 Blue outer tops - $50 Shipped OBO
1 Clear center top with lower - $35 Shipped OBO
____
Federal Signal 54" Legend Tops
$50 Shipped OBO
____
Federal Signal Legend TakeDown ROC Boards, depopulated comes with Cables
$25 Shipped for the pair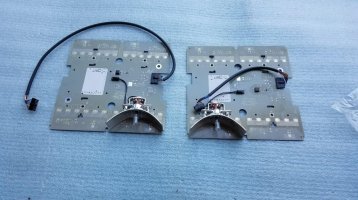 ____
Federal Signal Legend Outer ROC Boards - Converted to Blue by our own Wilson, Fully Populated front and sides, de-populated rears, MR11 Alley lights, comes with cables
$40 Shipped Each, $75 Shipped for the pair OBO
____
Federal Signal Legend Inner ROC Board - Converted to Blue by our own Wilson, populated front, de-populated rear, comes with cable.
$25 shipped OBO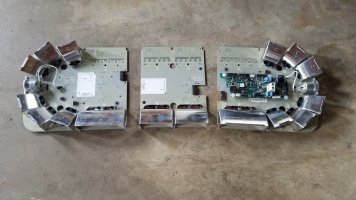 ____
Federal Signal Legend Control Board
$15 Shipped OBO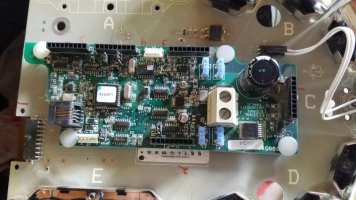 ____

Bundle Deal: All Fed Sig Legend ROC Boards and Control Board
$125 Shipped
____
Lots Of Lightheads!!!
- 17 Federal Signal 6-LED Solaris Heads - Blue with wiring pigtail
$10 Each Shipped, $150 shipped for all 17!!! - OBO
- 8 Whelen 500 Series Halogen Heads w/ Mount Buckets
$10 shipped for a pair, $35 Shipped for all 8!!! - OBO
- 4 Whelen Liberty Short Corners - Blue
$45 Shipped for all 4 - OBO
- 10 Whelen Liberty/Patriot Corner Spacers (8 silver, 2 black)
$25 Shipped for all
Or make an offer on what you want...
Trade / Wanted Items:
- Pair of Red or Red/White Feniex Cannons:
I have a pair of Blue/White ones (used for used, Currently installed and would need to receive the R/W ones first since they are my reverse lights)
- Red LED Grill Lights and Dash/Deck Lights:
I have my above listed Fed Sig Viper EXTs I can trade.
Paypal preferred
Thanks for Looking guys and Gals!!!
Last edited: