Hey everyone!
Here are pictures and a video of the 2010 Lifeline ambulance Deerfield
EMS
in Deerfield MA took delivery of in the first quater of this year.
I spec'd the lighting package and paint scheme.
It's Whelen stuff all around.
M7s, M9s mostly. Scene lights are 900 Series Super LED. Interior lighting is all 12 Diode Super LED lightheads (86CE1).
We re-purposed Motorcycle mounts which allowed us to put the 500 series R/C LEDs on the mirrors. This gave us that "3rd" level of warning half way up and provides for additional 45* warning.
The Mini Freedoms are custom built with a 6 head flasher replacing the standard
NFPA
one. The center modules are 1 each R/C and the corner modules are R/C over/under. All alternating. Again, mounted on the angle.
I felt that the growing trend of throwing a slew of large light heads across the front of the box severely limits off-axis (intersection) warning power. Between the angled mini-freedoms and mirror lights, I hoped it would result in a safer and more complete set-up.
On the rear the truck, the 4 outermost warning lights are tied into the brake light circuit. And of course the Red and Yellow-Lime reflective chevrons on the back. (The department services an interstate and sometimes is required to make the turn arounds. I wanted to make sure that there was no question that the vehicle was braking, and there was no excuse for not seeing the back of the thing.
The
KKK
lights are set for a slow 90fpm flash pattern. The secondary warning lights are all set for rapid patterns. (This allows the responder to turn off all lights except for
KKK
and produce a less dazzling light show.)
Here are pics of the truck, and a video quickly showcasing the lights.
Hope you enjoy it!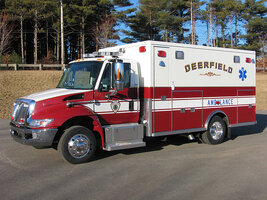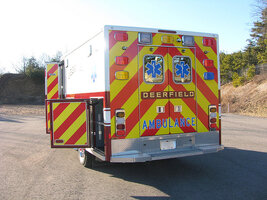 And the video: