Click here to access the donation page:
https://www.indiegogo.com/projects/cetronia-fire-department-facility-improvements/x/10505417
Cetronia Fire Department Staffing Program Initiative:
Due to the fact that our department is all-volunteer, each of our members have their own full-time job to support themselves and their families, and then donate whatever time they have to the fire department. Our dedicated members must leave work and their home life when summoned to an emergency.  As you know -
seconds count in an emergency, and 
your donation will make the difference in promoting around-the-clock staffing of our volunteer fire department
, which eliminates the need for firemen to drive from their homes to the station to get trucks on the roads. 
This removes critical time from emergency response to incidents and, in most cases, will reduce our response times to less than a minute.
Our Goal:
Over time, we are planning to improve our facilities to better accommodate life at the firehouse. We are using very limited funds from our general budget as the majority of this money must remain available for the purchase of fire equipment and other necessary supplies. The objective is to increase the initiative to have constant volunteer staffing within our four walls which will, in turn, reduce response times to emergencies, allowing us to provide better and faster service to our residents in time of need. 
How to Help:
We are soliciting the help of our com
munity to assist with costs of building this new program due to our limited available funds for this project. Projects will include the remodeling of areas within the station to 
create comfortable lounges, installing shower facilities, upgrading our bathrooms, upgrading our kitchen area and adding a modest climate control system.
Who benefits?
This program will not only improve the quality of service we can provide to our residents, it will also provide room and board for members.
 For example, college students who attend nearby institutions such as Muhlenberg and Cedar Crest colleges would benefit greatly as they would be provided with free room and board for their college semesters in return for their volunteer service as a firefighter.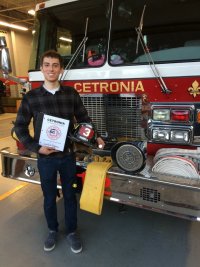 Thank you.
We view this investment in our property and our members very highly - just as we view the safety of our community. If you cannot make a contribution, spreading the word about our program is just as helpful. Any amount of a donation would be sincerely appreciated and immediately applied, with our humble gratitude, to our mission of keeping South Whitehall and the surrounding communities safe.
Click here to access the donation page:
https://www.indiegogo.com/projects/cetronia-fire-department-facility-improvements/x/10505417