Registered Member
Original poster
Federal Signal SignalMaster SML1 Blue Lot
Up for sale is a lot of 13 Federal Signal SignalMaster SML1 lights with Blue lenses. Lights are used and untested. Condition ranges from great to minor scratches. Lenses have no cracks, some do have heat marks. A few of the lights do not have brackets and wires vary in length.
Sold as is, Any questions feel free to PM me.
List Date: 2/10/2017
For more info, click here to view the original listing:
Federal Signal SignalMaster SML1 Blue Lot
--------------------------------------
This item is no longer available.
--------------------------------------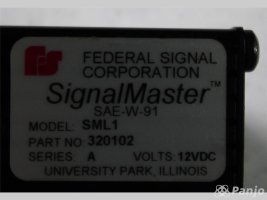 Last edited by a moderator: