Haven't been on the site in a while. Figured that I'd post about some new toys brought to me courtesy of one of my wife's old friends. First up is a set of PATLITE teardrops. I know nothing about teardrops, but they're fairly sizeable and from the looks of it, are for permanent mount. In Japan, stealth cars are just regular cars with permanent mount teardrops on them. What I found interesting about these is how they rotate. The rotators aren't positioned vertically; they're horizontal. One teardrop rotates right-left and the other left-right, so it's interesting to have this pair. They run absolutely beautifully and the domes are NOS quality. In Japan, emergency vehicles use red lighting. No idea what blue's used for.
Here are some photos. Will post videos once I record some better ones.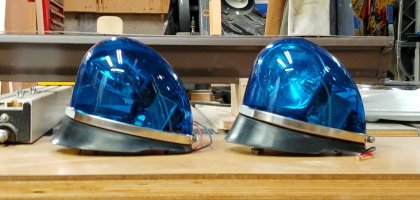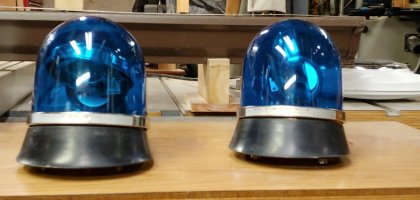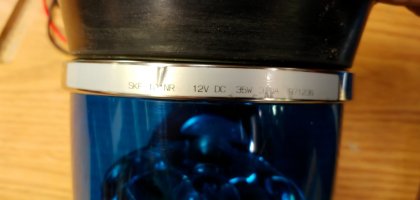 The second item is a Clarion AA-227A siren. It'd have been used on a police vehicle and likely emits a simulated mechanical tone. I've found some info on the AA-228A; which appears to be the same siren, albeit with an actual ground wire. With the AA-227A, it appears that you run the ground cable to the siren's body. Opening it up confirmed this (I think) date of manufacture for the siren uses the Japanese calendar and was produced sometime in either Shōwa 50, 56 or 58. The numbers are a bit faded, but that'd be 1975, 1981 and 1983, respectively. It looks to be Shōwa 56,though. Sadly, its a dead unit at this point. Hoping that I can get it up and running. Simple enough with only one tone. Can't find any circuit diagrams or any info on this specific model; even on Japanese sites. I've found circuit diagrams made by a fella who designed and built clones of the model AA-228F, which has the same tone, but adds the option to have the delay between rises and falls either 4 or 8 seconds. Hopefully those diagrams can help. Hoping that the transformer isn't cooked as one of the interesting things about this siren is that the siren outputs have a few options based on the impedance/resistance of the speaker.