I just finished rebuilding a KD Lamp 888 that was full of surprises. This is one of the neighbors gifts and was sitting on a shelf in his shed for who knows how many years. Filthy. it was wired when I got it to be a Quadra Flash type light with the lower bulb carriage screwed to the base and all of the original wiring cut out. I had no idea why anyone would do that to a light until I started making discoveries.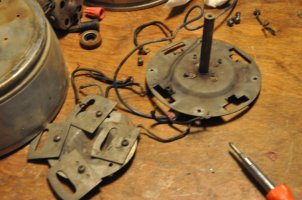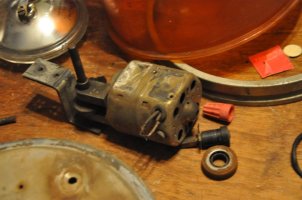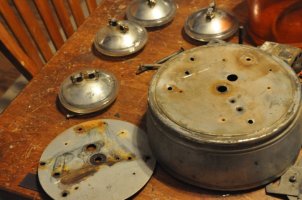 The first surprise was the wiring in side of the motor. It was cloth covered. From what I can research that stopped about 1956. The second big surprise was when I powered it up for the first time. It spun like an out of control carousel. I knew right away this was actually a 6 volt motor. Not being stamped 6 volts suggests to me it was built before 6 volt was not a standard.
It's a great looking light. I my opinion how the Federal Model 14 should have been made with the taller skirt. This is the original dome and the original base gasket. I kinda want to put a red or blue dome on it.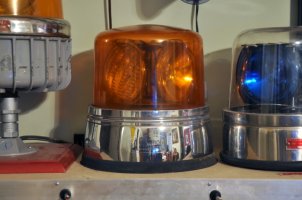 The stamped ID on the skirt has the "Fat Man" emblem, which also suggests early model.

I am waiting for some 6 volt bulbs to come in (getting hard to find by the way) and then I can do a short video.
The lack of an SAE-W3 stamping also suggests early. I have found one KD 888 with a SAE-W3-68 stamping so I know they did use the standard.
I actually recorded the entire restoration process and plan to put that on my Youtube channel in a day or so. It's a little long but I think it will be interesting to those wanting to restore something like this.
Any info or comments welcome about these lights.