My truck is a 1999 Dodge Ram 2500 quad cab. Has the Cummins diesel in it as well with over 250k very reliable miles on it.
Warning equipment includes:
Whelen LFL 14 head (all read) with rear traffic advisor
Whelen dual talon (red/clear) on the dash
Four whelen LIN3's (all red) on the grille guard
Hideaway strobes in the headlights and reverse lights
Whelen 295hfsc9 dual tone siren (will be installed in a couple of weeks)
I've also equipped it with bls rescue equipment (including AED)
I have my personal turnouts & MSA scba and a set of irons in the back seat.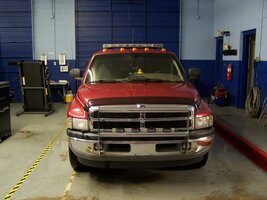 Last edited by a moderator: