Hello Fellow Collectors!
This time I have something special! I have been wanting to get this one completed for a while now. This is a Federal Sign and Signal Beacon Ray model 17 with an super rare, small diameter, cobalt blue (yes, deep dark blue. i know its hard to tell in the pics, but trust me) GLASS dome. This light is mounted ontop a special speaker base, model "CJ-L" designed for retrofitting Beacon Rays with speakers. I got this speaker base from David
La
Plannte a long time ago. The Glass dome I won on e-bay a long time ago as well. I had the Beacon Ray Tag restored by "fyrboy", a member here on the board. He did a great job as always. The skirt I had John Dorgan re-chrome. The gaskets are from Dale Cohen. This is yet definitely another great piece in my collection I think. Let me know what you think!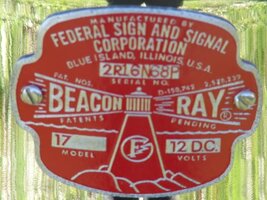 Thanks for looking and stay tuned...........