Well since I have had the past 3 weeks off I have finally gotten around to cleaning up and displaying my collection. I am proud of it, everything is hooked up and functional.
First a wide shot as you walk into the garage from outside. This is a garage in a sense that it has a garage door. Other than that it is "my room" with central heat and air, and my workbench in it. Above the garage door is my Strobehawk.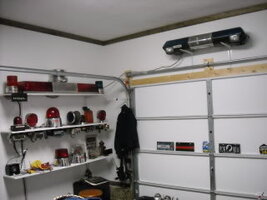 These shelves just got mounted the past week. Left to right top down:
Whelen self contained strobe beacon, Twinsonic 12X, Dietz 7-11 on top of 12X, Whelen self contained beacon.
Federal Fender Mount Fireball (has the dome blackened out at an angle on the back), Dietz "Lollipop Lights" Model 250. These are hooked up to a flasher. Next is
FS
175, K&D Model 855 red/blue,
FS
Beehive Style Glass beacon which is hooked up to the fire alarm box next to it, and then the other Dietz 250.
Mounted to the bottom of the second shelf are my sirens L to R: Smith & Wesson model 800, Federal Signal Director PA15A 1E, North American Signal Company Signal Master, Federal Signal Interceptor 2C, Whelen WS-295, and Tripp Lite Electro Siren.
Bottom Shelf is still a work in progress but right now it holds:
FS
173,
FS
184, Whelen Pierce Alert,
FS
Motorized Mirror Light in blue. The siren speaker a
FS
BP100
NOS
is also on the bottom shelf. I put AMP connectors on all the sirens so that I can easily swap the sirens around to the speaker.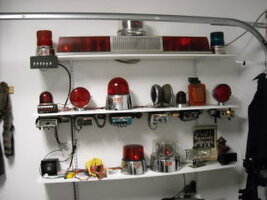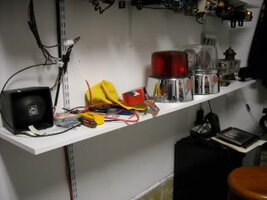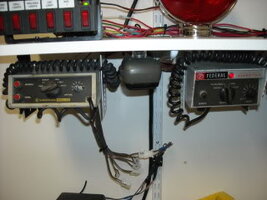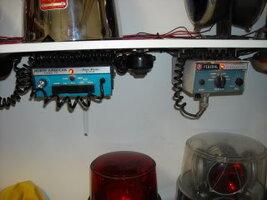 Amp connectors from sirens to speaker.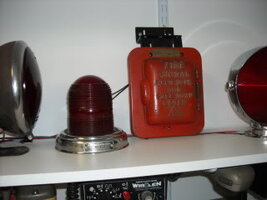 On the other side of the room are my other beacons. L to R:
FS
Visibar, Motorola Command A Lert,
FS
Model 14
FS
Model 174, MARS Skybolt US ARMY,
FS
Vitalite,
FS
Model 15.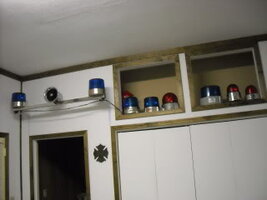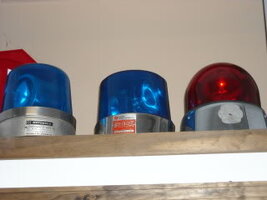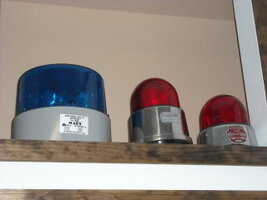 I am working on getting videos, but my computer is being exxxxtra slow uploading them. I still have some other beacons and lightbars that are in the works. I will post those as they get done below. Let me know what you think!
Video 1
http://s247.photobucket.com/albums/gg129/wcrs2346/elightbars/?action=view&current=DSCN0656.mp4
Video 2
http://s247.photobucket.com/albums/gg129/wcrs2346/elightbars/?action=view&current=DSCN0657.mp4
Video 3
http://s247.photobucket.com/albums/gg129/wcrs2346/elightbars/?action=view&current=DSCN0658.mp4
Video 4
http://s247.photobucket.com/albums/gg129/wcrs2346/elightbars/?action=view&current=DSCN0659.mp4
Siren 1 (Smith and Wesson 800)
http://s247.photobucket.com/albums/gg129/wcrs2346/elightbars/?action=view&current=DSCN0660.mp4
Siren 2 (Federal Director 15A Model 1E)
http://s247.photobucket.com/albums/gg129/wcrs2346/elightbars/?action=view&current=DSCN0661.mp4
Siren 3 (North American Signal Co. Signal Master)
http://s247.photobucket.com/albums/gg129/wcrs2346/elightbars/?action=view&current=DSCN0663.mp4
Siren 4 (Whelen WS-295. Swapped to youtube due to quality and upload time)
Last edited by a moderator: