The QPP quebec provincial police or called The Sureté du Quebec announced the new colors for their vehicules .The fleet of 1100 vehicules will progressively be replace by 2020 based on studies that black and white cars are easier to see and are safer.
Lightbar that were whelen delta with halogen on top and lower section all leds will be also replaced for an all led lightbar of unknow brand for now.
This is my opinion on the matter but I think we had great looking car until now . The green and yellow stripe on the door just do not belong there anymore. No disrespect to any of you but I don't get why our car need to looks so much american being black and white,push bar and everything. heck they are not even alowed to do pit manoeuver here ,they are jealous of you guys lol .
source (french)
http://www.lapresse.ca/actualites/2...rence-des-voitures-de-patrouille-de-la-sq.php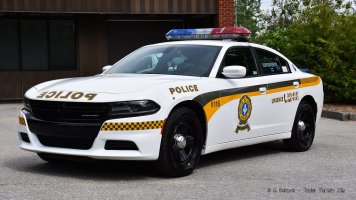 The sq has been running green with yellow door car until early 1990's when they got replaced with all white units.