Well I made quick action with the siren last over the last two days.
Just to recap: Completely disassembled the siren, thew all of the parts into an acid bath and removed the coating of silver paint. Cleand up the motor and was able to repair the bearing in the front and adjust it and it runs like a top now. It's a super nice, well made siren. Hits 104 decibels at 20 feet, a Federal 28 hits 116. It is about the same tone as a Federal Model 0.
The after !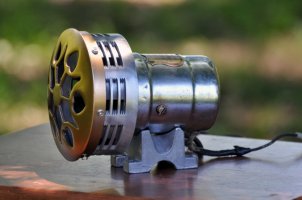 Before
Compared in size to a Federal 28. Looks like a mini me.