Senior Member
Silver Supporter
So as anyone can imagine with corona-chan pretty much wrecking everything as of late. Lightbar pickings have been few and far inbetween.
So it would figure that what I do eventually end up finding is a unique one..
Overall condition is pretty good after removing a protective coating of dust and dirt with some simple green.
It does need a good cleanup.. and for those with a good eye has a very interesting.. should I say modification.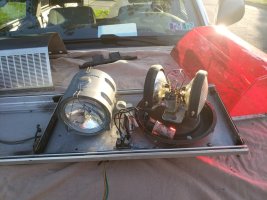 That is a Mars/Tri whatever light beacon is it not?
Interesting repair as the original rotator probably seized.
I think I have a parts bar for this in storage.. but I may have sold it. I'd like to return it to factory so the beacon is coming out..
I need to power it up and test, was trying to track wiring and the sun was going down when I took these yesterday.. more to come.