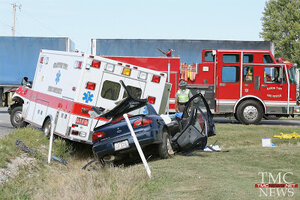 Grafton Township – One man is dead and a Firefighter was injured after a collision this morning between a 2001 Chevy Cavalier and a Grafton Township Fire Department ambulance.

The crash occurred in the intersection of State Route 303 and Island Road Wednesday morning. Few details are being released at this time as the investigation is still ongoing. We have learned that a Grafton Township Fire Department Ambulance (Unit 175) had been dispatched to a home on Island for a man that had fallen approximately 15 feet from a ladder. Grafton Township Unit 175 was then in the process of transporting the 62 year old male from the scene to Medina General Hospital. The ambulance was heading south on Island as they approached Route 303. According to the State Highway Patrol an 82 year old male was traveling eastbound on Route 303 in a Cavalier.


The cause of the collision has not yet been released.


Eaton Township Fire Department responded and had to use cutting tools to extricate the driver of the Cavalier. He was pronounced dead at the scene by Paramedics.


Both Firefighters in Unit 175 were treated at the scene and transported to Medina General to be evaluated.


The male who had fallen from the ladder was transported by another squad to Medina General.