Finally got around to adding me new rear lights in the window. I guess I'll finally post some video and pics.
2009 Ford F-150, 4x4 FX4
Front: Whelen Inner Edge with 10 LINZ6 LED's in R/B, 2 split R/B LINZ6's on Ranch Hand brush guard and C/C
LAW
in fog lights
Rear: 2 split R/B LINZ6's on license plate bracket, C/C Vertex's in reverse lights and custom deck lights in rear window made from 6 Tomar RECT-13's (3 on each side....R/B/R and B/R/B)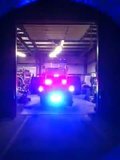 Will add daytime and front video's along with pics as soon as I can. I'm going to add 2 more of the Tomar RECT-13's to the upper part of the rear window in the next few weeks.
Last edited by a moderator: