Welcome to my new little store. I sell everything from NOS items to the greasy grimy stuff. Ya never know what we are going to have.
I will be updating and adding items regularly for the next several days until we have the majority of things that we don't need or local trade ins listed.
PlSe see our payment and shipping advisement at the end. If the post.
NOS items:
(These are not demo units. They are items that have never been used, The only run time on the nos items is to test them before shipping when applicable.
(Bolt on or feet availible for all phazer bars. Buyers choice)
Nos Star Phazer 44" led lightbar- blue/white-al+td $629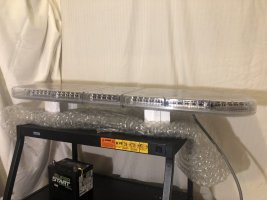 Nos Star Phazer 44" led lightbar- Amber White-al+td $675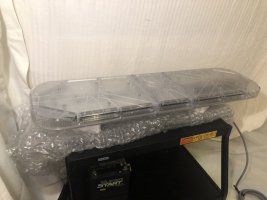 Nos Star Phazer 58" led lightbar-Amber with white corners (corners also activate as work lights) + Ally lights $809 2 availible
Nos Star phazer 58" led lightbar amber white 58" led lightbar-corners and first set of inner modules activate as work lights. Rest are amber. + alley lights. $809 1 availible
Nos Whelen Legacyled lightbar-Front is R/B/W Rear is R/B/W. 48" $1299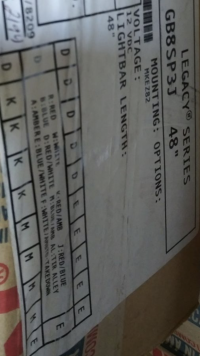 Nos Whelen Liberty 2 48" led lightbar not we-can+al/td ix8 bbbb all blue $649
Nos Whelen Edge 9m strobe lightbar-50"-Red-Blue $429
Used Led Lights, Lightbars and Beacons:
(2) whelen Red L31 beacons $199 ea.
(2) Whelen Amber l31 beacons: $199 ea.
50" whelen freedom-All red with amber lower rear arrow+Dual LR11 alleys and TD $399
$58" Red 2100 NFPA led lightbar-(deal pending)
(2) whelen M7 Red led lights w/ red lenses. $99 ea.
(3) red and (1) amber 400 series smart led lights (choice of red or clear lense) $45 ea.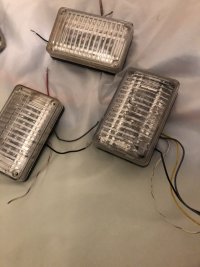 (2) blue 400 series smart led lights-clear lenses-$35 ea
(2) sets tier 6 smart led heads. 2 are red and 2 are blue. $75 per set. $135 for all.
(3) red 500 series surface mount led heads with metal bezel. $25 ea. 59 for all.
1 pair of whelen fire truck tail lights with metal chrome bezel. $165 for the pair.
(Only one is pictured but can send pics of second)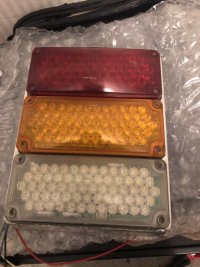 Parts:
(4) NOS red whelen Liberty 2 short heads -$69 ea.
(2) blue whelen liberty 2 short heads $59 ea.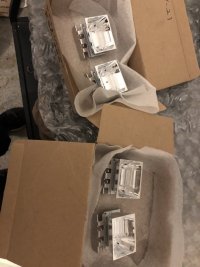 4 Ecco ez1290A led modules
$29.0 ea
11 Ecco A109-924A amber led modules $17 ea
4 A159-938 amber led modules $2900 ea
11 Ecco RevA Amber led modules $29.00 ea
Old school lightbars and parts:
Federal Signal jetstream-Amber-4 rotators. 2 fast 2 standard. Needs plastic lense spacers. $&5
3 mini xl5000 amber lightbars. They come with mounting legs. Domes look good, one done has a chip in the plastic gasket. The rotator gears need replaced. $35 ea.
)pics soon to come for all items not pic.
Trade ins:
I accept trade ins on most items so long as it Is something my regular customers or local customers may want for use or or to collect. So long as the trade in value reflects a "little meat left on the bone" per say.
Shipping:
Buyers are responsible for paying shipping for their items. We ship on Tuesdays and Fridays, some exceptions made. We do not ship on weekends or holidays.
Most full size lightbars ship for
$65-85 depending on amount of insurance and services requires with the exception of 68" bars which may run more.
Most items are placed in flat rate priority boxes when applicable. Shipping for
Multiple items is combined when possible. Items that are paid for with PayPal merchant services will have signature confirmation and the total amount of insurance of the sale. If the buyer would like more insurance it will be their responsibility to request the amount and send funds. all items are strategically photographed before being sealed to show condition and packaging material.
Postal money orders, Facebook payments, Payment: In person pick up with cash only, and PayPal (with certain conditions listed below),
If buyer pays with PayPal merchant services, we will place delivery signature requirements on the item. All items are priced for not having to pay the growing PayPal fees so if you wish to pay with PayPal merchant services you will not receive the 5% discount prices that are listed,
Warranty;
there is no warranty on xoressed or implied. Any items that are under factory mfg warranty such as some of the nos items, will be left between the buyer and the mfg. items are tested on video before packaged with recorded serial numbers the same date. All items will be exactly as described but sold as is due to some previous buyers forgettting to look at the wiring diagram before attempting to light up a factory wired light.
Mission statement:
We strive to please and will do our very best to please our customers with many return and regular customers. We believe in integrity, and freedom xoext the same in return. We love helping volunteers, nonprofits and local emergency services find quality items at a fraction of the cost. We know first hand the importance of having equipment that can be relied upon time and time again and we sell nothing less. We are a small company comprised of 3 people. We do installs on commercial vehicles, large apparatus, Wrecker's, construction/escort vehicles and work trucks, and non-complicated POV. We do not upfit police cars and complicated jobs, but work closely with a company that does. If there is a item that you are looking for, I will search my local and online network for you if it is something that we do not have. We only offer for sale what we have in stock. Consigned items are left in our possession until sold or reclaimed and unlisted by our vendor or clients. We are looking forward to your business!!!
Feel free to contact us with any needs, questions or concerns.
Disclaimer: seller not responsible for the purchasers intentions or qualifications. It is the buyers responsibility to know their local lighting laws in their area. We do not offer any advice formally or informally, legal or chit for chat, on these matters. If you do not know your local lighting laws, contact your state and local law enforcement angencies to ensure compliance.
Last edited: