8/9/19: Update, Added smaller lots and some bars. Open to reasonable offers on all items listed. Feel free to ask questions. Thanks for looking.
Nice condition MX7000. Bar has 5 rotators, TA, TD, Alley, Front Flashers and Intersection Sweeps. Domes are in good clear condition with some minor crazing on the tops and some minor scuff marks. SOLD
Code 3 2100. Bar is all Blue with 6 head Amber Traffic Advisor. Bar also has the hot feet with 2 heads in the front. Also Added 2 light heads to the rear of hot feet facing outward (not shown in pics or vid). Lenses are in great shape and very clear. They do have some slight yellowing and light crazing. SOLD
Used Sound Off Signal LED Lightbar 4 Wire Arrow Control box. Also included is a good length harness. $45.00 Shipped
3 NOS Amber Aerodynic Endcaps. SOLD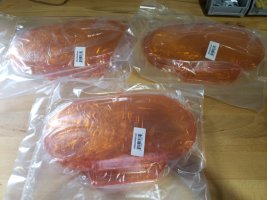 16 Code 3 MX7000 5 hole filters. All NOS. SOLD
Code 3 MX7000 corner filters. Both are NOS. The blue one does have slight shelf ware from sitting. SOLD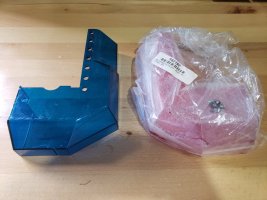 Whelen 700 series dual strobe with Housing. The Housing is Aluminum. Not sure what this came off of. Have not tested this unit so selling as is. Lens is not cracked, but has some slight scuff marks. Still very clear. $55 Shipped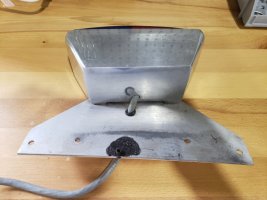 NOS Hide-a-way strobe tubes. All are Clear tubes with AMP connector. SOLD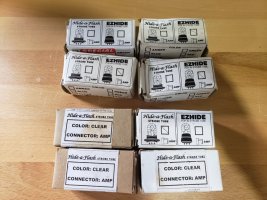 3 NOS Fed Sig Amber Corner Strobes. P/N 602111-02. SOLD
2 NOS Clear Strobes. P/N ST3901-7. $45 Shipped for both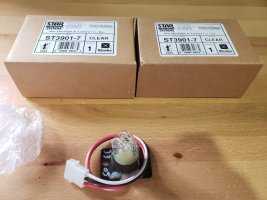 4 NOS Sound Off Signal ETL5000 Inboard Modules. 3- PETLLSWC Inboard White with Clear lens. 1- PETL2LSWC Inboard White with Clear lens. $55 Shipped for all 4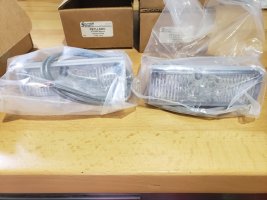 Lot of NOS Sound Off Signal Flashers and 1 NOS Whelen Flasher.
1- Whelen Impala Headlight Flasher, 1- Sound Off Impala Headlight Flasher.
1- Sound Off Solid State Motorcycle ETM Headlight Flasher. 1- Sound Off Solid State Deck/Grille Flasher. 2- Sound Off Ford Interceptor Headlight Flasher. $75 Shipped for the lot.
Lot of Sound Off Signal lights. These are NOS, but may have some box ware as they have been sitting. See pics for whats included. $55 Shipped for the lot
Lot of Federal Signal Arjent Modules. Was removed for a color change. Worked when pulled but have been sitting and have not been tested since therefore selling as is for parts. $45 Shipped for the lot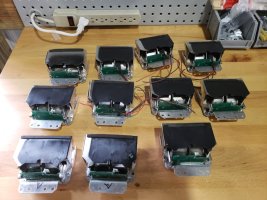 Last edited: