READ FIRST :
PRICE INCLUDES SHIPPING/PACKING COSTS
THESE WILL BE PACKED W/BUBBLE WRAP AND FOAM PEANUTS, ON AVG 1 BAR PACKED WEIGHS 25-40LBS
SHIPS LOWER 48 US ONLY, NO INT'L SHIPS, SORRY
ALL PRICES ARE FIRM/BOTTOM DOLLAR
LOCAL PICKUP ZIP CODE 62702.
WILL DELIVER OR MEET WITHIN 30 MILES FOR FREE. (LINCOLN, JACKSONVILLE, DECATUR, TAYLORVILLE).
Selling 2 Code 3 Model XL5000/Force 4 bars with extra domes and parts. Either bar could be put into service with some minor adjustments.
SOLD! BAR 1.
$250 SHIPPED, $100 LOCAL PICKUP. 3 fast rotor (120-160fpm) with mirrors (3 flashes to front, 2 flashes to rear). Uses H1 style bulbs. 4ft of factory code 3 cable. Available dome options below, first come, first serve. Must choose 1 center and 2 ends.
BAR 2.
$350 SHIPPED. $200 LOCAL PICKUP. 6 std. rotor (60-90fpm) with diamond mirrors and a single stinger on one end (date plate 7-88). Uses 795 type bulbs, stinger is PAR38 bulb. 6ft of cable (2 - 14ga 12+, 1 - 10ga ground). Will come with the blue/clear windowed dome for stinger, available dome options below, first come first serve. Must choose 1 center and 1 end.
DOME COLOR OPTIONS:
8 domes all grade "7" or better clarity condition. Not mixing and matching end caps,
SOLD 2 B w/B endcaps
1 B w/clear window and crack on top w/B encap.
3 R w/R endcaps, 1 has crack near the middle.
1 R center
SOLD 1 W center
PARTS.
$150 SHIPPED. $75 LOCAL PICKUP. 2 end domes of whatever color is left if bars are purchased separately. Full cascade mirror set. Turns end rotor to 4 front flashes, center to 5 front flashes. Limits rear flashes to 1 per rotor.
3 extra H1 bulb style fast rotors with wiring harness and bulbs. Ready to put into the 3 rotor bar or have spares.
Some feet and mounting clamps. Large medication bottle of extra mirror/dome screws, nuts, bolts, etc.
IF PURCHASING BOTH BARS I WILL ADD IN THE PARTS LIST NO CHARGE.

BAR1 AND PARTS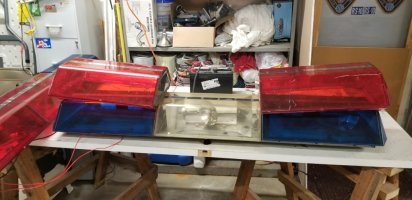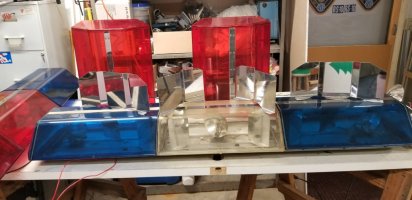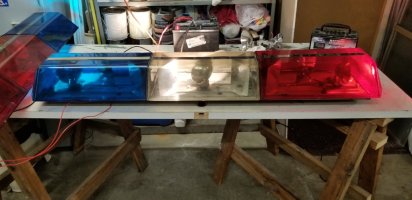 BAR 2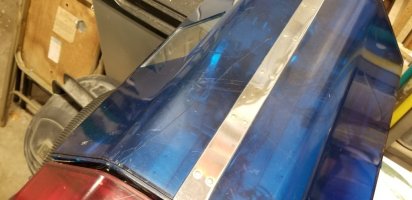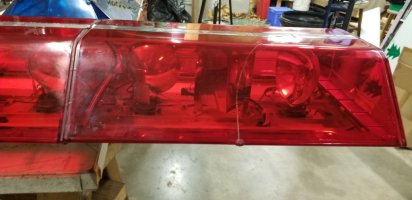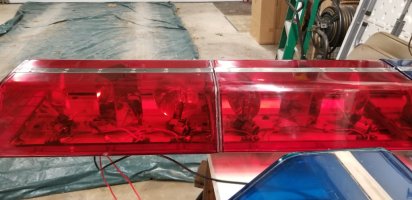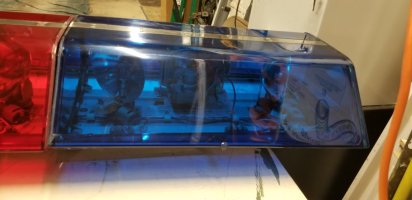 Last edited: