Being this is not a full install as of yet, I am putting this in here. I hope this is the right section.
The upper console is a 12" (mounting space) Havis angled. The lower console is a standard 18" Havis.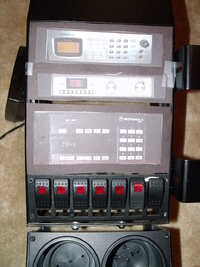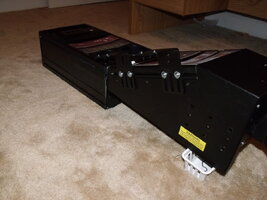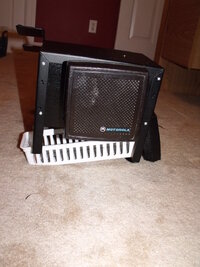 This vehicle is used for Rescue response both to scenes and to the station. I was once a deputy chief of a volly fire dept. so I had a lot of this stuff laying around. Other stuff I have picked up at killer deals from ELB, usedemergencyequipment.com, and priority1.
I am building a somewhat custom Havis console for my 2004 Chevy Colorado. I have removed the factory console. The following equipment will be installed from top to bottom in the pics. Note: some of the equip. is not installed yet and substituted with print outs.
1. Radio Shack Pro 2096 scanner (Jotto faceplate)
2. Sho-me LED Arrow controller (Jotto faceplate)
3.
VHF
Spectra (may convert to 800 mhz later on down the rd.) (Jotto faceplate)
4. 7 Contura switches for warning lights and airhorn (Havis faceplate)
rear leds, rear strobes,front leds, front strobes, side leds, siren amp on/off, electronic airhorn
5. Dual cupholder (will hold the 32 oz. Mcdonalds's sweet tea!!!) (Havis faceplate)
6. GM300
VHF
remote mt. (Jotto faceplate)
7. 7 Contura switches for aux. lighting and accessories (Jotto faceplate)
aux. 100 watt driving lights, aux. reverse lights, aux. cargo lights, right scene, left scene, air compressor (future install), pneumatic airhorn (future install)
8. 3 12v outlets with an led maplight (custom made from 1/2" oak and painted with appliance paint with a flat clear coat)
9. Custom audio/video inputs for in dash dvd/nav system (custom made from 1/2" oak and painted with appliance paint with a flat clear coat)
10. 3" storage pocket (Havis)
There is also going to be a Havis arm rest mounted.
Mics for the Spectra and GM 300 will be mounted on the right hand (passenger) side.
Motorola speakers mounted to the front and left hand side of the console; connected to the Spectra and scanner.
I also have a Havis laptop mount which I may install in the future. I Don't really have that much of a need for an on board laptop though...
I want this to be thought out and planned very well before I install. It will be in there until the truck dies. Is there anything I am missing or should install? I thought about relocating the Spectra to the flat upper most portion of the angled console (and mounting with factory brackets) and installing a faceplate with either a vehicle walkie charger or an amplified minitor charger... I also need to mount a cradle or what have you for a Blackberry Curve 8520 somewhere within arms reach. Any help would be greatly appreciated.