Added pics of the truck we just got back... It is the chassis from the old unit 1 and the box from the old unit 3 all gone over by Osage and put back together. Upgraded the rear, grille, intersections all to LED and added the halogens over the rear wheel wells.
Danville is paid day crew (07:00-17:00) Volunteer (17:00-07:00)
Danville Unit 1 2002 Ford E450 with Frontline box (secondary)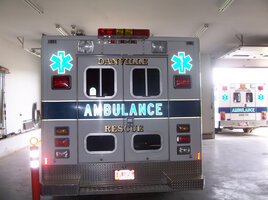 Danville Unit 3 1996 Ford E350 with Lifeline box (primary)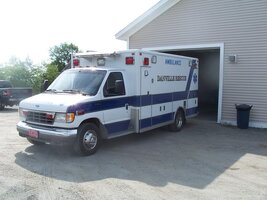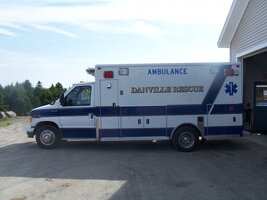 Argo 8x8 ATV
Snowmobile Rescue with rescue sled (has wheels and skis for use with Argo or snowmobile)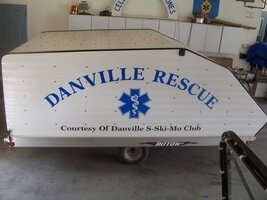 At the bottom of the page is our brand new ambulance we got in service in November 2010. We got it through Cromwell Emergency Vehicles out of New York, it was built by Osage in Linn Missouri. LOADED with LED lights! We opted for halogen box lights so that the snow would melt off of them and still be visible.
The last few pics of the new unit are from a transfer we did in a nasty storm, these were taking about 2 minutes after backing into the bay. It was a 150 mile round trip that normally takes 3 hours, it took us 5 hours that night!
Last edited by a moderator: