https://www.feniex.com/
Feniex Olympus 16X Light/Siren Controller Software
https://www.feniex.com/product.php?prod_id=284
I have been in communications with Feniex, and they have authorized me to review their system. Communication with me was initiated BY Feniex after reading a post of mine in here wishing to review their product. Communication has been prompt, and cordial, even though it is the Holidays, they took plenty of time to discuss with me via e-mail, their hopes, and plans for the review.
This review is for the SOFTWARE ONLY, for this system, I am still in negotiations to test their hardware along with this software, I expect that to take place within the next few weeks (possibly right after the holidays).
First off, I was e-mailed the software in an attachment, which I unzipped, installed, and had to replace a file in the extracted folder (settings.dat). This process took a whopping 1 minute to do.
After that, I opened the program up, and did not even really need any instructions, I just went in and started making alterations (I just used logic/process of elimination) before I even noticed the link to the Help/Demo of how to program.
There are limits of characters you can have in names for the buttons, but that shouldn't be an issue, how long of a name do you
WANT
to be on a button? You can alter the name of any Relay by choosing the Relay Number, and erasing, and replacing the Device Name, The Memory Buttons (1, 2, and 3).
Each relay can be chosen, and assigned to any of the buttons up top, and, the function of each button selected (None [a standard On/Off action], Press & Hold [to actuate the relay, i.e. for a Gun Lock], or Pattern Changer [a click and release of the button gives you momentary power to that relay]).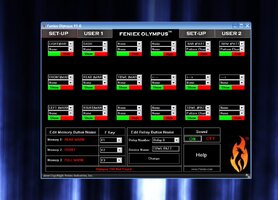 You can even arrange/program the buttons that appear in the minimized bar (When you click on the Feniex Icon, it will minimize the main panel to a row of your 3 Memory buttons, and 6 Function buttons).

The ease of programming this system is an easy 5 Stars, I installed the software, and reprogrammed everything in under 10 minutes, but keep in mind, that was with me just blindly jumping into this instead of reading "How To". Could have easily been under 5 minutes.
Once the programming was done, it came time to look at the main screen, and layout of buttons (that were arranged/selected from previous actions).
Depending how anal-retentive you are, going back and moving spaces around in the Device Name may be necessary to make the names on the buttons align differently (for example the top line is to the left, and the bottom line is to the right, but you want them to both align to the center, left or right). Not a major issue, but the names do not automatically center in the button, or anything like that, simply for aesthetic purposes.
Take note that 2 different pre-set profiles can be created (their though process, if you have a night and day shift, both officers can create their own preferred layouts. All layouts can be altered at any time if you decide a change is wanted. The Device Names of the Relays are the same in both profiles, and alterations to one or the other will affect both profiles, however the layout, and
FUNCTIONS
of the buttons can be changed (i.e. a Press and Hold function can be made into a "Pattern Changer" function for a momentary application), and it
WILL NOT
affect the function of the relay on the other profile.
Once you select one of the Memory buttons (the 3 large ones at the bottom, which all names are customizable as well), you then click on whichever functions you want actuated by the Memory button. For each Memory button, it is not a successive/stacking feature, so if you select certain buttons for Memory 1, does
NOT
mean that it has to be on for the next level, you can have however many, or few, you want present for each Memory button. I chose to make it that way, though. Once you Unselect the Memory button, it will turn off all other buttons. Any button can be actuated without a Memory button on, though.
So, thus far, this was all I was able to evaluate. I do not yet have a touch screen to test out it's functionality with that, but, I do not see an issue, seeing as the functionality portion is in the hands of the Touch Screen itself, so there are other variables in that equation.
LIKES
Ok, so the things I liked:
-Programming: Very simple. User configurable, easy to do, and customizable. A
BIG
Positive in my book.
-"Features": I do not need/can not use a Siren as a Volly FF/EMT in my state, so I have no need for one. The basic Olympus does not include one, however, if you do need on later on, this company has one that can tie in, and be controlled by this system. I cannot speak on it's quality or performance, nor, if you wanted to use a different siren with this system, I do not have knowledge, or experience with them. This controller supports 16 Relays, though. More than I need now, but the ability to expand.
DISLIKES
Now, a few of the nit-picky items, that are mainly my own preference.
-Sounds: While I am certain that a simple deletion, and replacement with ANOTHER sound of your preference is possible, the only available functions provided are "Sound ON" and "Sound OFF". Not a huge fans of the sounds provided.
-Visual: No ability to set user preferences for background color, button color, text/font color. I am not saying these items are BAD as they are, just some people might prefer the availability to customize their own setups. This would be getting into more advanced set-up, though.
-Minimizing the Pad: When you minimize the main panel to the smaller controller pad, it cannot be moved. It automatically goes to the Top Left of the screen. I wish there was the ability to move it to another location on the screen, such as when it is full-sized.
-If you want to use a Traffic Arrow (such as I will have a 911EP TDWL36), there is no actual image of a LEFT ARROW, SPLIT, or RIGHT ARROW, you have to use words, or, as I did, dashes, and arrow keys
<---- <---> ---->
PLEASE, do not take the fact that I posted more dislikes than likes, as a bad sign, the dislikes are more nit-picky than downsides to this product.
So, all that being said, I would rate this software overall, a 4/5. Little things here and there could make some very nice improvements, but pretty solid as-is.
Again, this review is for the SOFTWARE ONLY!!! I can't wait to get the hardware, and tie it all together!!
Again, a thank you to Feniex for allowing me this opportunity, I look forward to hearing some other's opinions, and your own feedback. This is my first review of a product ever, and I would appreciate any feedback on what I may have missed, left out, or what you would have looked for.
Respectfully submitted 12-25-2010 @ 1930hrs EDT,
-Zapp Brannigan
Last edited by a moderator: