Well, finally found one. It's not the All-light model I prefer, but I'm still more than happy to have a 'Hawk again. Plenty dirty, and some damage here and there, but seems complete and should clean up nicely.
Please forgive the "table" - the wife took over my project desk with her crafts/projects.*
Empty speaker compartment. Shame.
I'm assuming this was on a vehicle with rear work lights, as those lights to the front put the wiring block on the passenger side. If I'm not mistaken, that should be on the drivers side, correct?
That being said, here's the drivers side. dirty, of course. Two of the screw hols look like they were tightened two much and are missing half of it, so the dome can't be tightened down properly. It's secure, just not with all four screws - though it is missing two screws anyway. The bearing below the bulb seems to have a gap in it, like as in you can move the reflector up and down.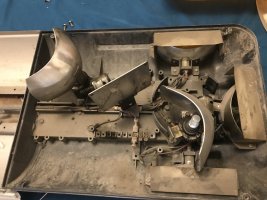 And passenger side. Nothing wrong as far as I know.
this guy looks brand new. No dirt or anything on it.
Rear flashers both look good, just needs cleaning like the rest.
Same for the alley lights. Also the bar came with the straps and feet on both sides!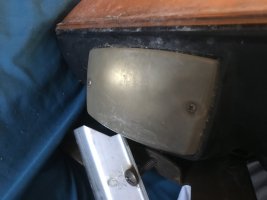 Looks like I'll need to replace both take down lenses. The driver side is by far the worst one on the bar.
And the bulb inside. I found some of the glass sliding around inside the dome. Not a good sign. But hopefully no real damage, just a blown bulb...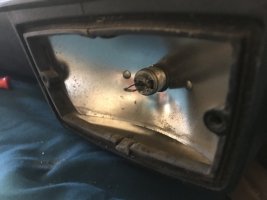 the other Take down. The bulb is fine in here, looks to be in perfect shape. Just melted/overheated effect on the inside. I'm thinking someone put the wrong bulbs and got way too hot bulbs in there.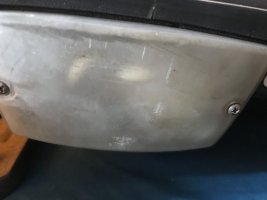 And the bane of my electrical skills. Super short wire.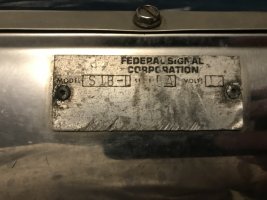 *Dear Wife: please forgive me.