Hello eLb, long time no see! Hope you all are well. It's been awhile.

As some of you may or may not know, our friend, and fellow eLb'er, J. Duke (Justin Duke) of Canton, Texas lost his home on 4/30/2017 to an EF-4 tornado. Justin and his bride of three months, Ariel, were not home at the time and were not injured. See picture below for what remained of their home place.

I have been in touch with Justin over the past few weeks. He is in good spirits and trying to see the best of the situation. He had a shipping crate/container that he stored a lot of things in on his property. The tornado picked it up and dropped it about a mile away, strewing their belongings along the way.

Among the items was his wife's wedding rings. She was working out and not wearing them just before the store. A metal detector guru volunteered his time to search for the rings. Miraculously, he found them about 50 feet from where their house used to be and reunited them with her last week! Some of you may have seen this story as The Weather Channel picked it up.

The last time I spoke to Justin he had requested that anyone wanting to give to send donations in the form of gift cards, such as Walmart and Home Depot. This will allow them to get the supplies that they need for recovery and rebuilding. I posted this on the eLb Facebook group and there was a few gofundme pages set up. Most have ended, however, this one is still active.

Now, anyone that knows Justin and has ever traded with him on here knows he is a stand-up guy. I have met up with Justin several times, both in his town and in my town. He is employed full time as a Firefighter/Paramedic for Arlington TX Fire and also volunteers with his local department. He is one of a handful of people from this board that I can truly tell anyone else - if he does you wrong a deal, I will make it right.

I know some of you do not like gofundme and some of their policies, so if you'd like to donate and do not want to use their service, I have been and will still accept donations on his behalf through Paypal or the Square cash app. I will take the funds and turn them into gift cards and mail them to Justin. My Paypal address is doodlebuggreen at gmail dot com. It will show up as sent to my wife, Julie. If you send as a gift, neither of us will incur fees.

If you can't donate, it doesn't cost anything to pray for Justin and Ariel. A tragedy such as this, so soon into their marriage, is certainly difficult. Consider leaving some encouraging words for Justin below. He'll be back later when he slows down and he'll read 'em.

Thanks,
Burt
"Pimp"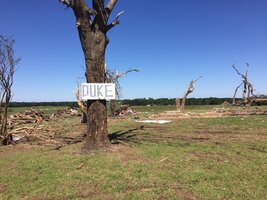 Last edited: