I'm college student in the DC burbs and this afternoon I awoke to an announcement from my roommate that there was going to be a mock dorm fire outside, and lo and behold, there was.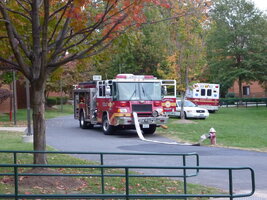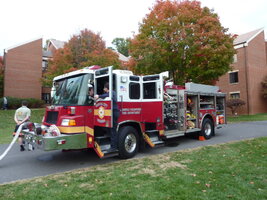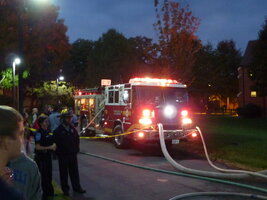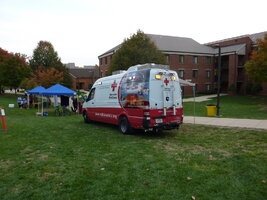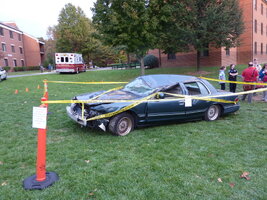 The Red Cross van had a curious light setup. The amber lights in back were pretty normal, but the lights to the side consisted of some red LEDs (FedSig FireRay?) which were steady-burning - quite unusual, although at some points they did a slow double flash. The lights in front were VERY minimal - no apparent lights up top, only the grille LEDs and some LEDs on the side mirrors, and even these were turned off. When it was leaving I did manage to see a substantial red glow from the front, though, so it must have had something else there.
I really liked the light setup on the fire truck - I generally don't like LEDs and this one didn't have any (but it did have a stuck rotator). It had two center rotators inside the clear domes with red filters - these I noticed did have significantly less "pop" than the other rotators. Also, about the strobes on the front bumper... The left-hand one did a quad flash sync'd with the white center strobe on the top of the grille. That alternated with the right-hand one on the bumper that did a somewhat brighter double flash - seeing a quad flash alternate with a double flash was kinda weird, but hey, whatever works, works.
Being familiar with the Virginia warning light laws, I noticed that:
- The fire engine had a
HLF
that was flashing the high beams when the headlights were already turned on - state
law
requires that the
HLF
turn off when the headlights are on.
- The Red Cross van had amber lights in back, but no red lights - state
law
only allows amber lights visible to the rear of emergency vehicles when there are red lights visible to the rear as well.
- The Red Cross van had steady-burning red lights to the sides - state
law
only allows POVs to have steady-burning red lights, not emergency vehicles. (POVs can have a max of two red or red/white flashing or steady burning lights)