Just in time for Christmas, we have 10 complete Motorola CDM-1550 mobile radios available. These are high power (40 watts), mobile radios in the UHF "S" split (450-520 MHz) with the optional remote mount kits and we're selling them cheap! Model number for these are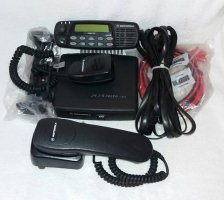 AAM25SKF9AA5AN. The radios have the following features:
Narrow Band Compliant
128 channels
High Power (40 watts)
14 Character Alphanumeric Display
4 Programmable Buttons
Enhanced Editing Menu
Dual Priority Scan
User Programmable Scan
X-Pand™ Technology
Adjustable Power Levels
MDC1200 PTT-ID (Alphanumeric ID-Encode/Decode)
Quik Call II (Will Alert Like A Pager When It Receives Your Tones)
The radios will come with the following:
Radio Chassis (Model number AAM25SKF9AA5AN)
Radio Control Head
Optional Remote Mount Kit
7 Meter (23 Foot) Remote Mount Cable
Mounting Bracket For Control Head
Brand New Mounting Bracket For Chassis
Brand New Power Cable
YOUR CHOICE OF Either Handheld Microphone or Privacy Handset.
Price is $150 each unit (Discount for purchases of 5 or more units) US Postal Priority Mail shipping is included in the Continental U.S. We will include programming of the first 16 channels at no additional charge.
We accept allmajor credit and debit cards (Visa, Master Card, AMEX and Discover), Paypal, US Postal money orders and department or personal check. (All checks must clear OUR BANK before radio(s) are shipped. Please feel free to either message me on here or call us at (845)699-9361 with any questions or if you wish to purchase. Thank you for looking.