MSD DashHawk Performance Meter
With these MSD DashHawk performance meters, you can truly understand how your vehicle is performing--which means that you can drive more fuel efficiently on the road, race faster at the track, and spot maintenance issues before they leave you stranded. Since the DashHawk meters save and record maximum values (password protected), you can also see how someone else has driven your car when you are not behind the wheel. The MSD DashHawk performance meters display all of this information the way you want to see it, either as a bar graph or digitally. Simply connect one of the DashHawk meters to the diagnostic port and you have access to over 100 parameters on 11 separate screens. Navigating through the screens is as simple as pushing a button. Values such as speed, engine rpm, oil pressure, coolant, oil and transmission temperatures, throttle position, engine load, and a host of other parameters can all be viewed via the DashHawks.
DashHawk fits vehicles that are Controller Area Network (CAN) compliant only. 2008 and later vehicles are CAN compliant while some but not all 2004-2007 vehicles are supported. Please contact MSD for additional CAN compliant vehicles.
List Date: 10/4/2016
For more info, click here to view the original listing:
MSD DashHawk Performance Meter
--------------------------------------
This item is no longer available.
--------------------------------------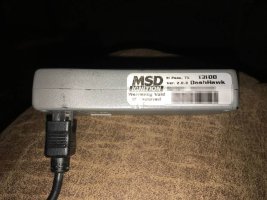 Last edited by a moderator: