On the front plate bracket is a set of tir4 style pods red/clear spilt
Bottom of grille is a set of tir6 style pods, red/clear splits,
Hood scoop is a tir4 pod spilt red/clear
Three slimisers on the windshield, red/clear.
Top is a mini lfl that use to be strobe, converted over to led.
using red 500 lin6's.Just added 500's to the side
of the mini lfl
Back window is a 8 head dominator, red
Two clear strobes in the tail lights
Two clear strobes in the reverse lights.
Two tir3's on the rear plate
using a whelen controller and siren.
http://s67.photobucket.com/albums/h292/ ... 007-14.flv
http://s67.photobucket.com/albums/h292/ ... 004-19.flv
http://s67.photobucket.com/albums/h292/ ... 006-18.flv
http://s67.photobucket.com/albums/h292/ ... 005-23.flv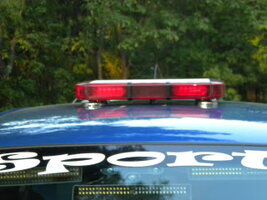 Jim Rogers
Northern lights/Sirens