Hello and Welcome to my first ever storefront.
shipping will be USPostalService included with asking prices..
Like many others, this is a hobby for me so please bear with me, I normally check the site at a minimum of once daily, barring blizzards of course.
Items will be removed once claimed, and as I unveil more stashed goodies the thread will be updated. Prices noted are deemed lowest price shipped in lower 48, unless combining items.
Alas, I'm still not comfortable shipping internationally, i can offer more/better pics if asked, and items are bench tested or never opened as noted, most items have minimal use as I like to change my setup and vehicles around a bit. Unless noted, items are in 8 of 10 condition or better. Sales are final. Now that legal is out of the way, lets get to the goods. Thanks for looking.
Pair of Whelen TIR6 red w red lens four wire used dated 8/05 0/0? $100
Pair of Whelen TIR6 red/amber split w clear lens four wire w plugs used dated 7/07 8/08 $100
pair Whelen 400 series Red slave freedom plugs w red lense 11/05 00/0? $100
pair Whelen 400 series Amber slave freedom plugs clear lens unknown dates $120
Pair Whelen smart 400's 5mm red $40
Two pair Whelen Grille Master 400 housings black used $100 pair
Slimlighter SLPMMRA red/amber no date code cut cord $100
Slimlighter SLPMMAA amber/amber NOS/NIB dated 5/08 $120
Whelen M6A 5 wire w color lense, new, open bag, dated 6/11 $90
Whelen M6R 5 wire w color lense, new, open bag, dated 12/12 $90
911EP 360 STAR amber, long cig plug w pattern select,no magnet $SOLD local
Able 2 microthins halogen glass lens, 2 nos, 2 used $100
Whelen L32 amber mag mount color lense $150
New Feniex plate mount for Apollo's . $20
Sound Off Roadrunner headlight flasher $20
Whelen crown vic rear deck Talon R/R, no brackets,slightly modded $80
500 series mounts- have one pair chrome one pair black, need to find them still
Trade consideration for a 70C0ELZR, or pair 400 single super Amber slave from a towmans/economy bar, clear Guardian dome, Amber or Red Guardian filters, nos magnets, handheld siren or.....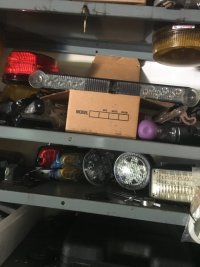 Last edited: