Got this from former juvenile delinquent ( I misunderstood when he told me he used to ride up front....sometimes). and riding bud, Otis Sasquatch
1964 Studebaker "Pursuit Marshal"
1964 Studebaker "Pursuit Marshal"
It was equipped with a 289 cubic inch R1 Jet Thrust V8 engine with 4-barrel carburetor and dual exhaust rated at 240 horsepower ...
Studebaker was serious about trying to capture more of the police market with its 1964 line of Marshals. A special brochure was produced to help market the 1964 models. Among other things, the brochure touted the availability of disc brakes and [R2] supercharged engines.
The 20 demonstration cars were each produced to meet different state or city specifications. Most had automatic transmissions and all had R1 Jet Thrust engines. Only three had manual shift of which two were 4-speeds.
Standard roll bar. And a special "driver's section" on the otherwise Cop bench seat.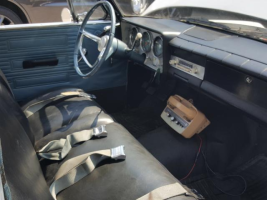 Studebaker was already circling the drain. And when production moved to Canada, there went any chance of police fleet sales.
Final production is unknown. Most estimate 30-33, including the 20 Demo's.
But that figure is suspect, because;
- Studebaker, in their position, would build & sell anything to anyone with cashee-money. So some were rumored to have been built for and sold to the public.
- Their record-keeping sucked.
Probably less than 40 total, though
Last edited: