I have an SVP Pancake Light that I use when my fiancee takce my Av and I'm left with her Caliber... I love this light but I wish it would rotate faster... Is there a way to tweek the motor thats in it? Or is my only option to get another motor...?
Click for larger Pics: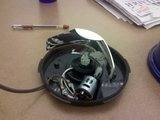 I see that there are little (what I thinkto be) resistors soldered on the power and ground of the motor. Would snipping one or more of these off give me the result I'm after...?
Thanks in advance for your help guys & gals...
- Tim