Hey all
I updated my collection post.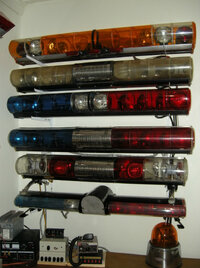 From top to bottom, we have my FedSig side of the collection:
AeroDynic 25RWL Wrecker style with twin rotators
AeroDynic 24R with all-clear used domes that are being wet-sanded now. If you have color combo to suggest to me, give it a shot
LAPD AeroDynic 24EAH-T2Z; from the 17th district. It's missing the feet and alleys. They are not fully restored yet.
LAPD AeroDynic 24EAH
NYPD AeroDynic 24RMVF-2Z
JetSonic J-CAL, believed to be from the Alameda County Sheriff's Office
Below all these are the power supplies, switchboxes, a PA15A 1-E, and a Dominion Auto round top beacon.
I have a thing for Aerodynics, I can't help it....
Then, these are mostly the bars and beacons that were around when I grew up. Mostly Code 3 and Dominion Automotive, except for the Mars Skybolt. Federal Signal, until recently, was almost non-existent around here.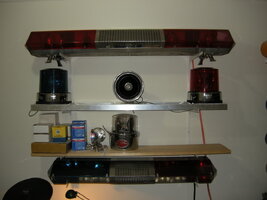 From top to bottom:
Code 3 Force 4 XL, from a Montreal firetruck. Still has the property ID sticky tag on the lens.
My custom-made Dominion Automotive Montreal PD cross-bar. 2
NOS
Dominion auto flat top beacons with a CP25 speaker.
MX7000 from the Quebec Provincial police.
Mini Code 3 XL sealed beam in Christmas setup, powered by a modified computer power supply. Click the video!
Here are a few others DA beacons I have.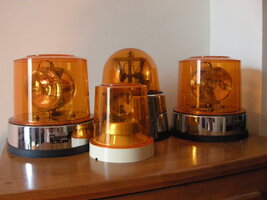 This last picture's DA flat tops are now on the Montreal PD crossbar.
Enjoy and let me know what you think!
If you have any questions, feel free to ask
-Toon
Last edited by a moderator: