Hey folks,
I just got back from Ryans wedding in Ohio, and there waiting for me at work was the 12F Twinsonic that was posted here on the Craigslist section.
I am told by the firefighter that sold it to me, that it was on his chiefs car.
I also got a Morgans Point, Tx. fire dept. t-shirt with the light... Bonus!!
It is dusty inside, but looks to be in very nice shape under all that dust. It works flawlessly.
Here are some cameraphone pic's, because my girlfriend still has yet to buy me a new camera. C'mon Kim.
First of all, Thanks UPS for taking care of one of the red lenses for me. :?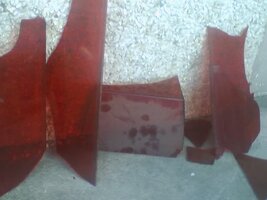 I know that this baby is gonna clean up real nice, and will look great with my two

NOS

blue lenses.
Oh yeah, and here's a shot of Ryan, and me (left), and then his ass being dragged away by marriage!!