Resident Ghost
Original poster
Gold Donor
Selling my entire interior setup from my
POV
, desperately need some funds so Im pricing this to sell quickly
All lights are blue only unless noted; all are used, all have short wires but enough to make new connections, all are hard wired
Custom Whelen Dominator D6, internal flasher. Housings paint is chipping in spots, 4 heads are LIN4, the ends are TIR3, this was originally a RRRBBB bar but swapped to all blue -SOLD
2 Whelen Talons, internal flasher, non sync, no flash shields, with basic mount bracket -sold as pair for $70, indiv $35
Feniex Apollos B\W Surface Mounts - $65
Whelen LIN6 smartheads- syncable $40
Price is shipped (CONUS only) OBRO with tracking. Payment will be made via Paypal.
Apologies for the lack of better pictures, all items are still installed and in service until payment is made in full
Please PM me for purchase as I am not on this account often and may not get an alert if you reply in the thread.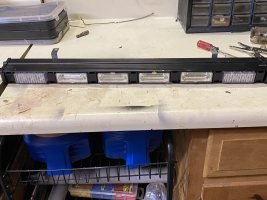 Last edited by a moderator: