Since there were a couple of other Libertys on here I thought I would add mine. Here is my current ride. Vehicle is used to respond to the scene and/or the station for volunteer fire dept. There are some things that could be better, but this is a start.
List of equipment
Front:
Windsheild – Custom made ten section Microman interior bar. Alternating Blue and White. Sections 4 and 5 (in the middle) set at alternating angles.
Grill – (2) Ecco 3860
Sides:
Running Boards - Code 3 LED X
Side glass - Knock Off Grill LEDS (hopefully replaced soon)
Rear:
Window – (2) Mini Phantoms Red/Blue
License Plate - Code 3 LED X one Red/Red, one Red/Blue
Siren:
Sho Me 100 watt
Interior:
Custom made switch box
video link (Hope the link is working for you. It is not for me) Any assistance is appreciated.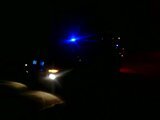 Last edited by a moderator: