Here is my new ride that I got a few months ago.
2007 Chevy Silverdao Crew Cab LTZ Z71
Used for volunteer fire dept response.
Any questions feel free to ask!
Equipment:
Custom 40in Whelen WECAN Liberty.
Whelen Dual Advenger.
Whelen LIN4's (in grill).
Jottodesk center console.
http://www.jottodesk.com/Comersus/store ... roduct=770
Brookings BR990 digital switch box.
Uniden Bearcat 350A scanner.
Video:
http://s149.photobucket.com/albums/s74/ ... %20videos/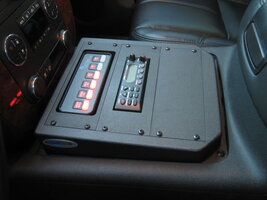 Update!!!
Backrack has been redone and did some modifications to mounting the light bar more secure and raising the back rack up another inch for easier access to the bedcover lock clips. More pics will be on the way!
Last edited by a moderator: