Ok, so this build started off with my customer getting hosed on a Facebook Liberty buy.
He was told he was buying a full feature liberty, what he got was a Economy or "Dumb" liberty, with Halogen Takedowns and Alleys, and only 2 LIN4 LED's in the front and rear of the bar.
I started off by replacing the Blue stock lenses, with used clear ones. Were not in the best shape, but were better than the blue. Sourced a I/O board, and 6 more Blue LIN4 modules on eBay.
Obtained the Whelen SXTDLED Takedowns, and LR-11 alley lights from here on eLb, and had Wilson convert 6 modules to Amber.
This all sits ontop of a Backrack, using the Backrack L brackets, and Whelen MK9s mounts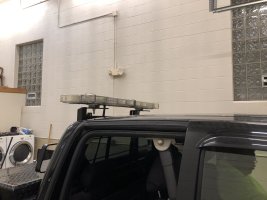 Inside, I used a Havis(?) Universal console box that we had pulled out of a previous project, along with a Brooking BR-970S(?) control box.
More Video and Pictures to come
Last edited: