For a few years I see a pickup go by my house with an old Twinsonic on the roof. He lives about a mile from me and use to move houses. Retired in his 80's now. About 2 months ago he rang our doorbell and said he had gotten some of our mail. His house number is the same as ours just a different road. We get his mail sometimes. It just so happen that the package he received was two motors someone had sent me to fix. My wife as home and answered the door. She told him how happy I would be to see this and told him what was in the box. He told her he had a few in his garage if I was interested in them. Well I have been waiting on the right time to show up and not seem to eager for possibly free stuff.
Well today I was outside and he stopped by and said "Get in". We drove to his shop and he said I am throwing all of this stuff out so if you want it get it, it not we will throw it away. This is what he had: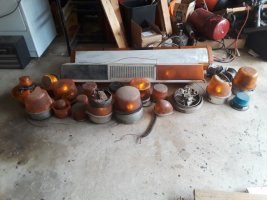 The Twinsonic came off a PD car, but he doesn't remember where. It is a model 12EF. No speaker and I haven not opened it up yet but he says it's complete and works. The blue and amber domes look solid. would love to get a clear dome to replace the amber one with once I get it all working.
A Federal 100, and a rebranded Signal Stat. A Dietz fireball, and 4 belt driven Tripp-Lite. Moss with broken domes.
The big beacon in the center is a K-D 4 bulb beacon. A lot of strobes, but I doubt any of them work.. The base on the right is a Signal Stat 374 with the band. Needs bulbs and dome. Haven't checked the motor yet, but that should not be a problem. Also two rotators out of a Twin, apparently the one on his truck. He said he took the rotators out and put strobes in it because it was easier to change out. (?_What?)... well I can't argue with a gift horse.
The Whelen in the back he wants me to see if I can fix. I am assuming it's all strobes,
Not sure what this one is, he asked me to see if it can be fixed. If not he said trash it. I am thinking it is a strobe bar.