Hey guys,
Looking for some input for lights on my 2000 F-350. Currently all I have is my triple dashmiser on the dash. Its a crew cab, long bed. It has a 4 inch lift and 35 inch tires, so it sits off the ground quite a bit. I'm not looking tp spend a lot, so I was thinking of something like this: 4 TIR3s in the grille,
HLF
, 10-75
LP
bracket with TIR3s to the side, TIR3s on the toolbox for rear warning. I had the thought to put my 4 section MX7000 on it, but I can't decide if I want a lightbar. What do you guys think?
Use: Volunteer Fire/
EMS
Colors: Blue or blue/clear to the front, blue to the rear.
How would you light it up?
Dan
NEW QUESTION BELOW
**edit for photo**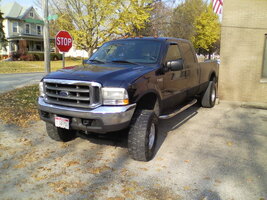 Last edited by a moderator: