hello fellow collectors!
This time around i have a project that i have been waiting to do for a while. I got this
NOS
Strobehawk a while back from a dealer. this thing was still sealed in the box. I already had a Strobehawk, so i wanted to do something different with this one. I think my version would have been a cool one, that Federal should have considered. I ordered new clear Streethawk domes and new blue Starfire Strobe domes. I cut the blue domes to match the original clear Strobehawk ones. I also had the speaker grilles mirror polished. Let me know what you think!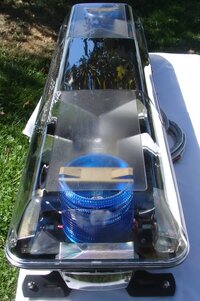 [Broken External Image]
:
http://i734.photobucket.com/albums/ww341/eric6913/fred55.jpg
Thanks for looking