I've updated the setup by a huge amount. It isn't anything close to what it used to be. Here's the current setup:
Liberty SX8RRRR, clear "takedowns", and custom rear warning setup (see pics)

Go Rhino push bumper with custom-made 6-head, Red LIN3 Dominator

Red/Clear Vertexes in DRL housings

Red/Clear LINZ6s on push bumper sides

Clear Vertexes in the front corner housings

Red LIN3s in rear side windows

Red Vertexes in taillights

Currently, I still have it all controlled with a Code 3 V-Con, but plan to replace that with a Whelen 295SLSA6, and supplement it with an Alpha 12Q (yes, the old version) for a "mechanical momentary" that will be controlled with a foot switch. There's also plans to add a Howler at some point.
Nothing has been done on the interior that's worth looking at, but I'll post shots of the wiring after I get back from Hawaii. I have a fiberglass console being made for me at the moment by someone who is very, very good at that stuff, and once it's done, it'll be replacing the factory console/seat that's in there now. I'll be mounting my Radio Shack Pro-197 digital scanner, the 295, and some other miscellaneous stuff in the console once it's done (using Havis parts), and I plan to take pics during the install process.
Here's some shots for ya'll to gawk at. I'm working on video, and it should be up tonight or tomorrow.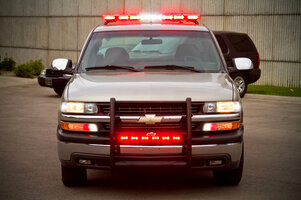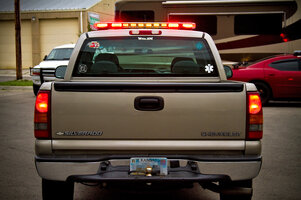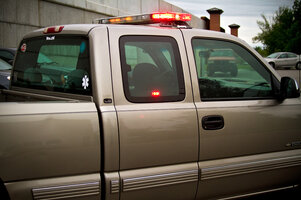 Video
:
The Liberty is the product of a special order demo bar. The TIR3s in the back are mounted to a custom-made bracket produced by Whelen, and all are hooked up to the rear portion of the I/O board; the red LIN6s between the TIR3s and the rear corners are hooked to the auxiliary port on the I/O board. Everything else is setup as normal (if you can call using two white LIN6s for takedowns "normal").
T/A
is on two-wire control. I plan to replace the alleys with LR11s.
Last edited by a moderator: