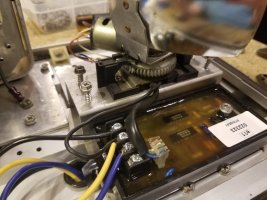 ​
Hey all,
I have a Force 4 mini lightbar with the stingray rotators. The rotators didn't work when I got it, and I finally decided to install the new Stingray relays.
Unfortunately when I put power to it, it doesn't work.
Can anyone tell me how I can troubleshoot this?
Looking at the connections in the photo I have:
(1) Black = ground
(2) Yellow = rear only
(3) Blue = should be full circle when powered with yellow
(4) Empty
Looking at the diagram on the back of the relay, it looks like the 4-prong plug is correct. The orange wire is furthest away from the edge of the relay.
Thanks.
​