Led conversion, population, and replacement of burnt out diodes!
No more replacing a head after a section Burns out and either throwing away or putting it in a box never to be used again.
Change rank, job, state? Need to change colors too? Can't stand that you bought all those lights and now you got to spend another fortune and make new holes.
Reuse the lights you already have! You know how many hours they have and what condition they are in.
Colors are: Amber, Red, Blue, Green, Purple, White.
There is also a few special order colors non-warning specific. Pink for the ladies
Many many brands/ manufactures use the same platform of LED's and I'm constantly finding new lights.
UPDATE:
Here is the new pricing and tutorial to help figure out what series your lighthead uses
5mm
These are commonly considered gen1. This is where led warning lighting was born. And it still continues to be used. I try not to convert these as it is time consuming. i can do them on a per job basis. $0.85 per led changed.
Star based leds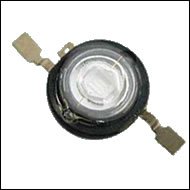 This is the popular diode that I carry I. Stock. I usually have about 2,000 at any given time. This was used by whelen in their heads up until late 2008. It was also used in the talons and other units until a later date. It is also familar in 911ep lights and many other companies. This was the breakthrough for smaller lights with more output
Any light that uses this diode is $2 per diode changed. Ie a lin6 would $12 etc
Cree XR-E
[Broken External Image]
:
http://www.cree.com/~/media/Images/Cree/Components Modules/XLamp/XRE White/XRE_Cool_Angle_med.jpg
This is used by many companies and is still popular today. This replaced the star based in some regards because it was more efficient power wise and since it flow solders to the board it was heatsinked better
I can change these but its more expensive. It is $5.00 per diode changed. Ie a lin6 with these diodes would be $30.
.
Cree XP-E
These little guys are mainly found in whelen heads. They are about the size of a framing nail head.Primarily in the justice style heads like the newer con-3s and the LR-11 takedowns.
I can change them but the limited use of this diode makes it more expensive at $6 per diode changed. As noted though I CAN make colored lr-11's
Comparison between the xre and the xpe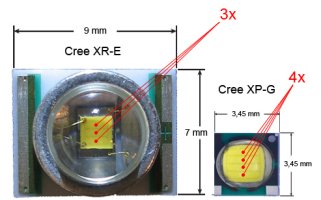 Philips luxeon rebel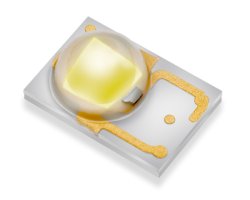 Luxeon rebel size comparison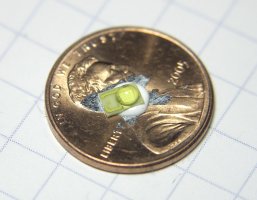 Size comparison to xp
[Broken External Image]
:
http://www.msc-ge.com/en/6817-www/version/default/part/ImageData/data/cree_xlamp_xp-e_white.png
This is the newest diode on the market today. This bad boy are bright but they are also a pain. Your big companies like whelen and feniex use this series. Whelen has been the first one to be utilizing those diodes which has been proven detrimental, there was a process problem at philips which led to hundreds of thousands of these diodes to fail prematurely due to bad epoxy.
I can change these as well but for the size and work it takes the price reflects that at $6/diode. Ie a lin6 with these diodes would be $36
Last but not least, well maybe...
Its the OSRAM led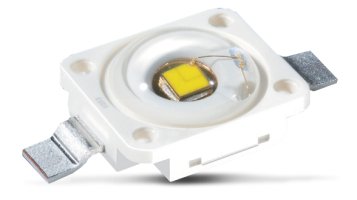 This diode was popularly uses by sound off signal specifically the led3's. This was on my could not do list but I have successfully done a few for myself so I'm opening it. So yes I can do led3's now
$5 per diode. Ie led3 changed would be $15.
Many people ask me what diodes I am using. I cannot say other than they come from a name brand warning light manufacturer near me.
I did a side by side test with a whelen tir6b(blue)
I changed the leds out in 1 module with new blue ones. The second module I left it whelen.
Results: color to the eyes was identical. The light output on the one I changed was actually 20-50lux brighter than the whelen's.
I personally use lights I changed on my pov
Split colors are capable in a single head also.
Red/amber and Blue/ white Tir6 with a clear non-optic lens does not get split fail at a distance.
Feel free to ask any question.
Payment will be PayPal. Shipping is determined by you. However you ship it to me is how you will receive it in return and whatever you pay for shipping is what the shipping fee will be.
Also I've received lots of pm's but not a lot of product. Is there something specific people want to see me do? Send me a request and ill get it up!
Ill guarantee the heads. If they fail ill replace it if its my fault.
Brian
Lin6 amber before
Lin6 split blue/amber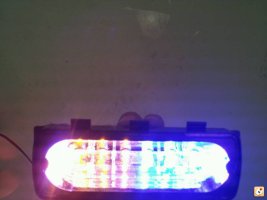 Whelen 700series amber before
Whelen 700series full conversion to blue
Email for direct contact however posting here or PMing me is a more reliable source
Westernme963@AOL.com
Disclaimer: I am in no way, shape, or form affilated or supported by any company whom I retrofit their modules. I am a third party entity. Any previous ratings or certifications the light previously had will be voided. Any manufacturer's warranty that is present on the light will be voided. I am not responsible for any damages that may occur while using the equipment after the product is modified. Upon you agreeing to have me work on your equipment, you are waiving all rights of holding me accountable to any damage that may occur.
Last edited by a moderator: